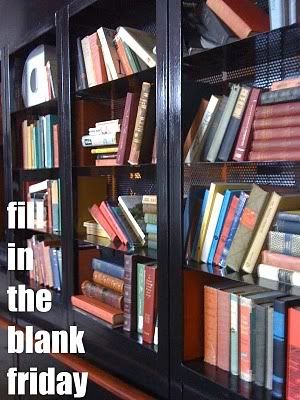 Gather the kids and call the neighbors! It's time for the super exciting event we like to call Fill In The Blank Friday!
Before I reveal my answers to this weeks questions, I want to apologize. I didn't intend to go missing for the past few days. It's just that when either of my boys come home on leave, I swear they bring all kinds of bugs with them. Honestly, I don't know what the incubation period is on colds and flu's but I swear it's immediate when they're of the Marine Corps variety. Those kids walk of the plane, I hug them then Bam! I'm ill.
Thankfully I'm feeling better now. I would hate to miss my favorite blog happening of the week! And without further ado....the blanks.
In the story of my life, the actor who would play me
is America Ferrera. Though we don't share the same skin tone or coloring, we're both 'Ugly Betty's" who shine from the inside more than from the outside.
If I could change one thing about the world it would be
to slow down the pace. I would love to take it back to Leave It To Beaver times where families had leisurely dinners together every night, and husbands and wives filled traditional roles. I love how simple it all seems.
Yesterday
I felt horrible and was full of stress. Today, I am feeling much better and I've worked out what was bothering me. It's a much better day!
My comfort food is
potatoes. I love them mashed, fried, baked, french fried or any other way you can think to fix them. But mashed is my favorite.
My new favorite blog find
is
Jessica Claire
. She is named 'One of the top 10 wedding photographers in the world' by American Photo Magazine. It's easy to believe when you view the beautiful photographs she shares on he blog. I am especially enchanted a recent
post
of an Orthodox Jewish Wedding. The photographs are breathtaking!
My favorite breakfast food
is french toast with lots of cinnamon, a touch of nutmeg and loads of melted butter, topped lightly with warm maple syrup.
Don't forget to visit
the little things we do
to join in the fun!