Hi guys! I made it safe and sound to Utah. As I was hoping, Fall greeted me when I arrived. Shades of golds, reds, and browns color the mountains around us. Halloween decorations adorn the porches of homes up and down the street. The air was crisp and maybe even a bit too cold. It was exactly how I hoped it would be!
I am going to love being here with Becky and her family. This house is filled with laughter and love. The whole family even helped me unpack and set up my bedroom. It was unexpected and so sweet.
Becky and I went shopping today.. We had several things to pick up, like a dog bed and a caddy for the shower. I also found a cute purse, and since I've been trying to find one I liked, I treated myself.
After we came home, I was transferring my things from the old purse to the new one. There is a little zipper compartment in my old purse I never used. I unzipped it today to double check and be sure I hadn't put anything in there and forgotten. I found this: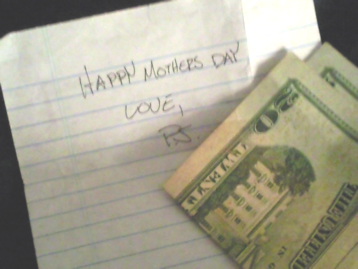 I was so touched. PJ must have put it in there when he was home on leave in May. Tears filled my eyes, first because of the thoughtfulness of my son and then because I realized he must have been hurt I didn't thank him. I immediately sent an email. I hope he finds it soon so he knows he touched my heart today.
Thanks to the fall season, my sister's family and my thoughtful son, it's been a great start to another chapter in my unexpected life. I'm excited to see what it brings my way!