This afternoon, the local weathermen said to expect 'the storm of the century' tonight. It was only an hour or two later when the snow started to fall and it looked like they could be right. It was piling up fast.
I know I've mentioned a time or fifty that I love snow storms. I truly do. But I've realized I only love snow storms while they're happening...not so much when the skies clear and the frigid temperatures move in. I don't like it either when the snow gets crusty and dirty. But while it's falling, it's magical and I want to be out in it! I want to go for a drive, or a walk, or shopping!
This explains why, while the flakes were falling, I asked if I could run to the store for anyone. Becky was delighted to take me up on my offer to get a few last minute groceries for our Thanksgiving feast. I got the list and off I went. I turned the radio up and sang my heart out as I drove to the store.
I can honestly say, I haven't felt joy like that for a very long time. By the time I got back home, my feet were wet and cold, my hands were frozen and my ears were red. But I was happy! I've been dreaming of a storm like that for more than a year, and it had finally come!
Hardly, the storm of the century, as it didn't last more than a couple of hours. Though it did leave a few inches on the ground causing Greg to go out to clear the sidewalks. When he came back in, Becky and I had a huge laugh. I convinced him to let me take a picture, though it's blurry because he wouldn't stand still long enough for my stupid slow phone camera to work. Maybe it will give you a chuckle like it did us.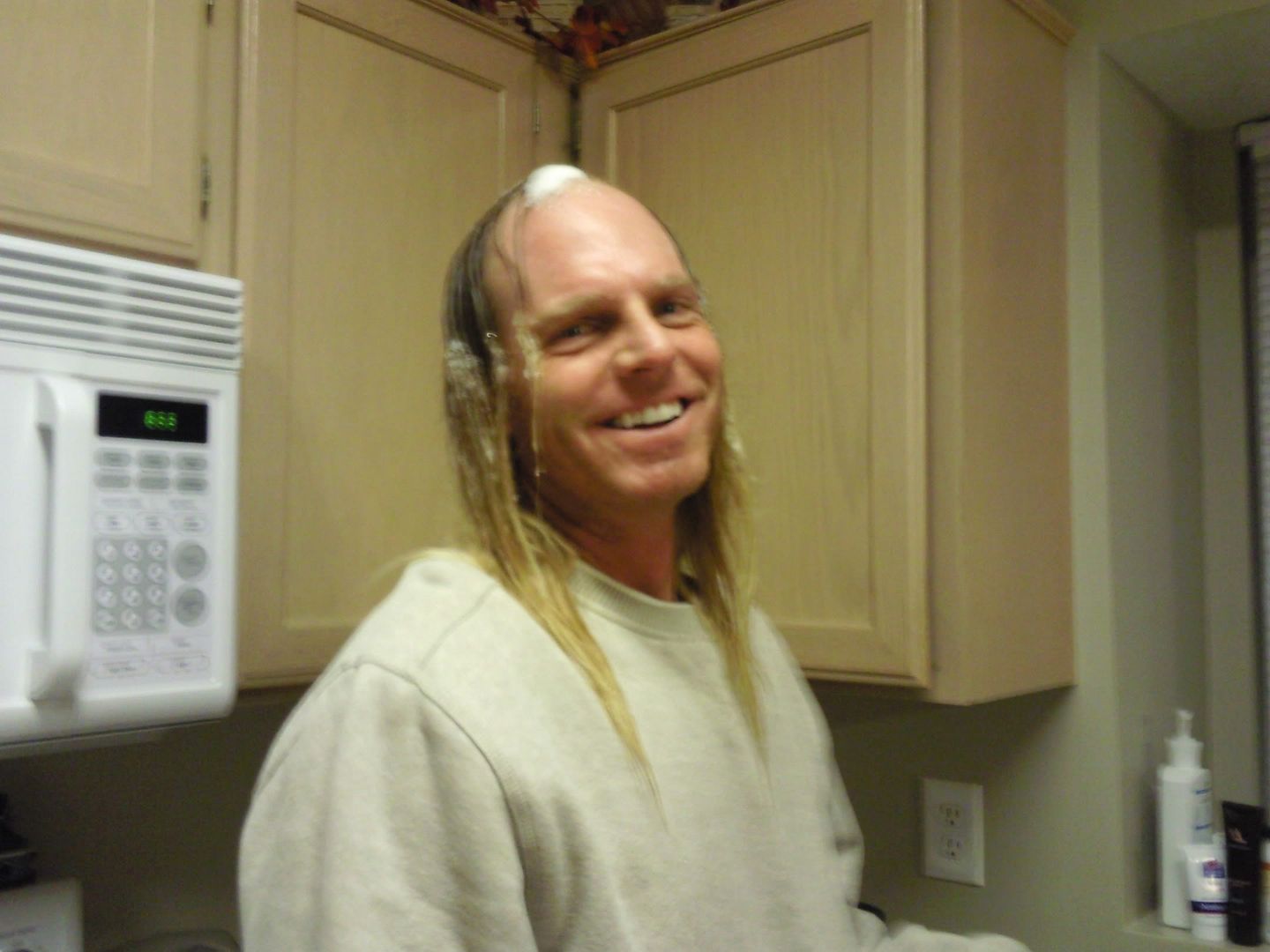 Doesn't he look cute?
I have to explain his hair. More than two years ago, Greg, who is an avid golfer, got an Eagle on one of his outings. He swore that day, he wouldn't cut his hair until he got another one and so far, he hasn't been lucky. I sent Gus a picture of his uncle a few weeks back and he wrote back saying, " I can see he still sucks at golf." We all had a huge laugh at that!
I think Becky and her kids are ready for Greg to get a haircut. But I for one will be disappointed when that day comes. It just won't be the same Greg when he has short hair.
I have had a few emails asking for Becky's favorite cheeseball recipe using the
Roka Blue
we were having trouble finding. I'm more than happy to share it with you.
Becky's Cheeseball
1 8oz package cream cheese, softened
1 5oz jar Roka Blue cheese spread
1 5oz jar Old English cheese spread
Put cream cheese, Roka Blue and Old English into a bowl. Blend with mixer until smooth and fully mixed. Chill. Serve with assorted crackers.
Becky prefers to put it in a tupperware and spread it onto crackers with a knife. But you can easily form it into a cheeseball and roll in chopped nuts. I've also seen this recipe made with grated sharp cheddar cheese added and I love it that way too.