Every other Monday, I go into Salt Lake with Becky and Trey because they have an appointment with the orthodontist to have their braces adjusted.
After the orthodontist appointment we hurry to have lunch before their teeth start hurting. Trey's favorite place to go is
Noodles & Company
. The first time he suggested going there, I turned up my nose. I couldn't imagine a restaurant where only noodles are served. But having eaten there plenty of times now, it has become one of my favorite restaurants.
I've tried several of their dishes but I've narrowed it down to two favorites, and I always seem to choose one or the other. The first is Pad Thai. I love the crunchy bean sprouts, vegetables and peanuts. Sometimes I add shrimp to kick it up a bit.
But my very favorite dish to order is Wisconsin Mac & Cheese. It's so good! It's different from any mac and cheese I've ever had. There is a light, but creamy cheese sauce in the bottom of the bowl, macaroni on top, and finally it's topped off with shredded cheddar cheese. It's truly divine.
I found a copycat
recipe
online, so Becky and I gave it a try for dinner last night. Of course, it wasn't exactly like we get a noodles, but it was close. Greg deemed it the best macaroni and cheese he'd ever eaten. I agree it was really good.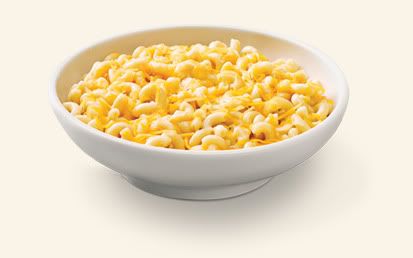 Image from Noodles & Co website
Noodles & Co. Macaroni and Cheese (copycat)
1 lb. macaroni
1/4 cup butter
1/4 cup flour
3 cups milk
1/2 tsp salt
3 cups shredded monterey jack cheese
shredded cheddar cheese
Cook macaroni according to directions on package. Set aside.
In saucepan, melt butter over medium heat. Stir in flour until well combined. Slowly stir in milk, and whisk until thickened. Add salt and remove from heat. Add monterey jack cheese and stir until melted.
My notes:
This makes a lot of sauce. Also, the original recipe calls for half and half instead of milk. But according to the comments where I found this recipe, we chose to use whole milk instead of half and half because it was said the mixture becomes too thick. After making the recipe once, Becky and I have decided 2% milk would work even better. The sauce is not supposed to be thick.
To serve, as they do at Noodles & Co, spoon desired amount of sauce in bowl, followed by pasta on top of that. Then top with shredded cheddar cheese. The sauce should not overwhelm the pasta, so use caution to not add too much sauce.