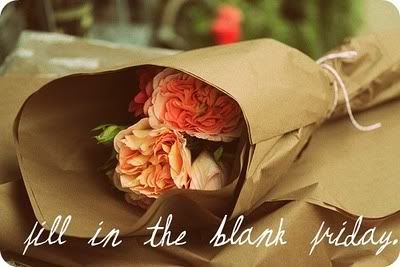 Yep. It's time to fill in the blank again. I hope after you read my answers, you'll hurry over to visit
Lauren
and join in the fun!
Winter is
my favorite time of year. I love the early darkness...the cold air...Christmas and New Years...the stillness. I love bundling up and wearing mittens...seeing my breath...the crunch of old snow and ice. I love icicles hanging from houses and trees without leaves...no flies in the house...blankets piled on my bed. It all makes me happy!
Summer is
not my favorite season. I grow tired of the sun shining constantly...sweating constantly...and never feeling cool enough. But, I do love lemonade and shaved ice...red raspberry for me please! I love cookouts and picnics on the mountain. Friends stopping by to visit and staying up late.
If it were summer instead of winter right now I'd
clean out my car. It's disgustingly filthy from the inside out and it's making me crazy!
My favorite thing to do in winter is
wear comfy sweats...warm socks and wrap up in a blanket. I love to open the curtains and watch it snow... while enjoying a good movie with someone I love...ignoring the phone and just being together.
My favorite thing to do in summer is
grab a bucket of Kentucky Fried Chicken and head for the mountains for a picnic...and to cool off...with the ones I love.
The ideal outfit for a summer day is
shorts and a Tshirt. I'm simple.
The ideal outfit for a frigid winter day is
a cute sweater layered over cute shirts...with a pair of jeans and warm, but stylish boots.
I hope you all have a wonderful weekend!