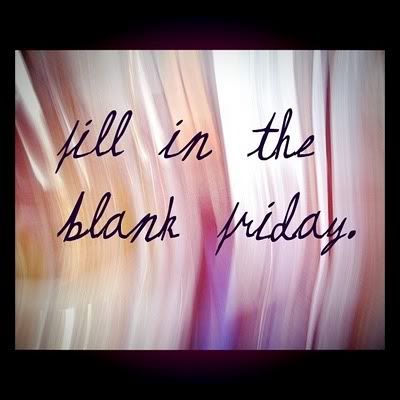 Happy Friday! It's time to celebrate the end of the week by playing along with fill in the blank Friday! After you read my answers, be sure to click over to
the little things we do
to join in the fun!
My biggest accomplishment in life so far is
raising two United States Marines. Not only are they proudly serving our country, they're amazing kids who make my life so happy. I just miss those boys so much.
My favorite place to sit in my house is
at the kitchen table eating something. Ha! I'm just joking about the food (kind of) but I love sitting there with the family. We play games, talk about the day or share dessert. It's nice to be all together.
My fashion philosophy is
keep it simple. I'm not much of a fashionista, though I'd love to be. I am usually wearing jeans and a simple top or sweater. While I do enjoy dressing up occasionally, I honestly prefer comfort over style. Stacy and Clinton would be disappointed in me.
Something every girl should have is
a well fitted bra. I think it's awful to see someone dressed cute, and not have their 'girls' in the right place. Even worse is to see someone not dressed cute with the girls flying free.
*Disclaimer: I need to schedule a bra fitting.
If you looked in my purse right now you'd find
my wallet, lotion, dental floss, lip balm, lip gloss, lemon heads, keys, sunglasses, a prescription, gum and Altoids.
My favorite music right now is
anything John Mayer. I just cannot get enough of him.
My favorite part of my body is
my hands. God didn't bless me with much, body-wise, but he did give me long legs and pretty hands. They're starting to get old, but I am still receive compliments on them.