(I'm back! I still think my life is uninteresting and therefore I have nothing of interest to say. But no matter. I am going to keep updating and saying whatever is on my mind. It could be interesting...or not. Are you up for it?)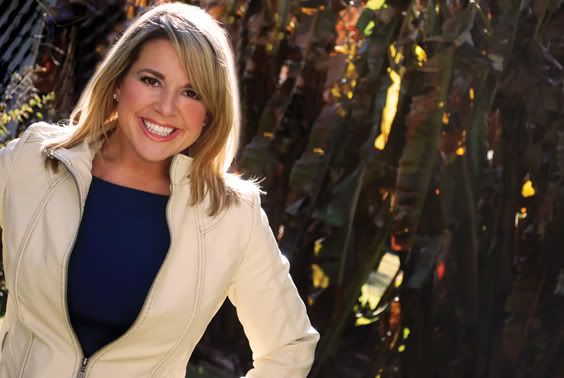 Abby Rike
I've never watched The Biggest Loser, have you? Apparently a season to two ago, there was a popular contestant by the name of Abby Rike. She has a heart breaking story and through her courage and weight loss, she inspired many. I was lucky enough to have the opportunity to hear her speak last week.
Just in case you don't know anything about Abby, like I didn't, I'll share a few highlights from the program we were given. "Abby was a high school theater and debate teacher for thirteen years. She and husband, Rick, led their shcool to an overall state speech championship as well as numerous state speech qualifiers and two state champions. Abby was voted Teach of the Year in 2003."
"Abby Rike, a loyal hard working, lover of life, faced and unfathomable tragedy in October 2006. In light of losing her beloved husband, 5 1/2 year old daughter and 2 1/2 week old son in a fatal car accident..."
Following the wreck, she graduated with a Masters of Education mainting a 4.0 grade point average. Then though a series of events, she befriended a previous "Loser"who encouraged her to apply to be on the show. She was chosen in May 2009 with a starting weight of 247 pounds. During the show, she lost 46 pounds while at the ranch and an additional 54 pounds when she went home. That's a 100 lbs. folks! Impressive!
I found her to be charming as she shared her struggle with weight, the loss of her family and the challenge of losing weight on the show. She shared 'inside information' about other people from her season as well as the coaches. The audience responded well to that, but I had no clue what was so funny as I have never seen it. After she spoke she had a question and answer period which was informative as she answered questions about everything from weight loss tips to what is Jillian Michaels really like?
By the way she has a book coming out May 4th of this year. It's called WORKING IT OUT, A Journey of Love, Loss and Hope. You can read more about it on her website
here
.
It was a fun evening and I'm glad I went. I plan to watch The Biggest Loser on Hulu and see what I'm missing out on! If you ever get the chance to hear Abby speak, I highly recommend it.