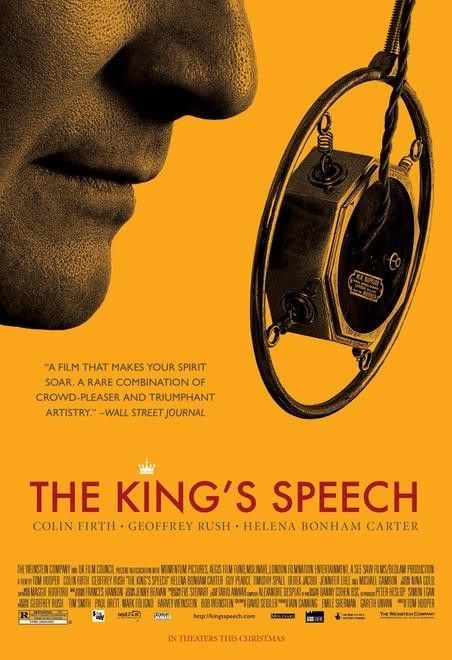 Earlier in the year, I cheered for Colin Firth to win Best Actor, for The King's Speech at the Academy Awards. I hadn't seen the movie, I just love Collin and I guess I felt he should win based on his past work in movies such as Pride and Prejudice or even What A Girl Wants and the Bridget Jones movies. He was brilliant in those roles, right? Okay, maybe he wasn't brilliant but he was very attractive and that should count for something.
I finally watched The King's Speech tonight and I honestly felt Colin Firth was, well... brilliant in his role as King George VI. He rightfully earned his Oscar and all the prestige that goes along with it. I was so completely drawn into this movie that it didn't matter I was tired, or needed a bathroom break. I just wanted to see what happened next.
After the movie ended I immediately went online to find if Helena Bonham Carter and Geoffrey Rush were also nominated, as I felt they deserved. I was delighted to see they, in fact were but was disappointed neither received a statue that night. I haven't seen all of the other nominated movies, so I can't make the judgement as to whether or not they were robbed, but as far as I am concerned each was brilliant in their roles, truly making The King's Speech, Best Picture.
If you haven't seen it, I highly recommend it and give it two thumbs up!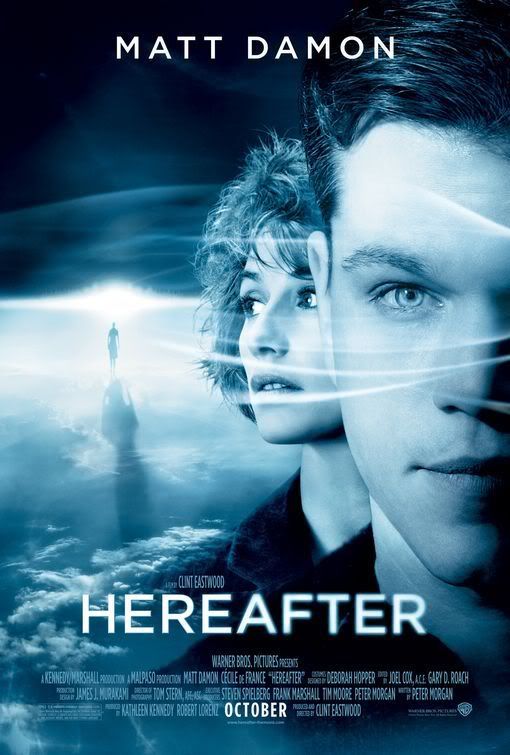 A few days earlier this week I watched Hereafter on my sister, Becky's recommendation. She refused to tell me what it was about thinking it might ruin the experience for me. I did take a peek on Netflix for the movie description and it reads,
"
Clint Eastwood directs this supernatural thriller about three very different people and their responses to death, including a hesitant American psychic named George (Matt Damon) who may be able to help the others find answers and peace. Marie (Cécile De France) is a French journalist caught up in the aftereffects of the devastating 2004 tsunami, while in London, young Marcus (Frankie and George McLaren) seeks to contact his deceased twin brother."
I don't really enjoy thrillers, so I was a bit apprehensive about seeing it, but from the moment the film started I was sucked into the story and
I enjoyed every minute of it. I couldn't imagine how all three stories would come together and make sense, but they did and it was the perfect ending. I have to warn you though, it was a tear jerker! The tears started and wouldn't stop!
Hereafter also gets two thumbs up!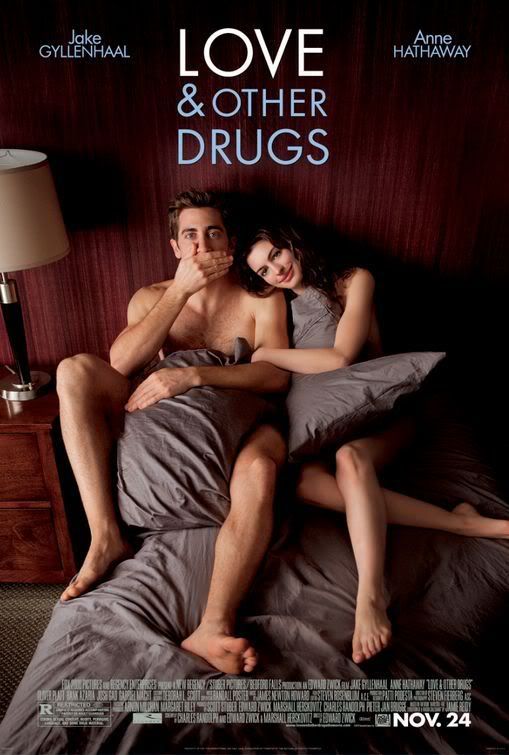 I have one more movie to comment on, Love and Other Drugs. This movie starred Jake Gyllenhaal as a drug representative for a major pharmaceutical company and Anne Hathaway as a young woman suffering from Parkinson's disease. It is categorized as Romantic Comedy as well as a Romantic Drama. I believe the second description is most correct.
I am ashamed to tell you, I sat through the whole thing though I covered my eyes for three quarters of it. This was a love story with very graphic sex scenes. I admit I am a bit of a prude and anything more graphic than a peck on the cheek embarrasses me. Not really. But close. It was a very touching and sweet story, but it was over the top in, shall we say, physical expressions. I just don't think it's necessary to show so much.
However, I will say that I thought Jake Gyllenhaal and Anne Hathaway were wonderful together. I would be the first in line at the theater if they ever make a true, no sex...just romance...Romantic Comedy together.
Two thumbs up. One thumb for the story and one for Jake and Anne. But I also give this movie two BIG thumbs down for the unnecessary sex scenes. Watch at your own risk.
As always, I'd love to hear what movies you've been watching. Our Netflix queue is dangerously low. So if you have any recommendations, leave a comment. The whole family thanks you.