Did you hear Marie Osmond remarried her first husband, Stephen Craig, today? I have never been much of a Marie fan, but she has been through so much in her lifetime that it thrills me she has found happiness.
I don't know why their marriage ended so long ago, but it's great they could get past what broke them apart to give it another try. I imagine there was a lot of talking, listening and forgiving before love could grow again. I think it's amazing they were able to not only heal, but also to find that deep kind of love for each other once more. It's truly inspiring.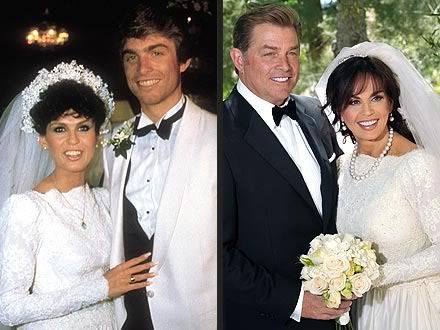 I have to say, I was surprised when I heard she wore the same wedding gown she was married in the first time. It must have made her day all the more special and let's be honest...I salute anyone who can still wear their gown thirty years later. But I wonder why she'd want to. I mean, it's really none of my business, but I know the next time I marry, I would never want to wear my white gown or carry a bouquet of flowers again. I would choose something a little more simple and relaxed than my puffy white dress. But that's just me I guess.
I hope they're both very happy for a very long time. I keep saying I believe in 'happily ever after' and this is just another reason why.