Despite some of the hottest temperatures of the summer, I can feel fall coming. There is the slightest hint of coolness in the hot breezes that are blowing through town. It seems to be getting dark earlier, and fall decorations are already hitting the stores.
Becky and I couldn't be happier about the change in seasons, no matter how slowly it's happening. We are gearing up for casseroles, pumpkin recipes and Halloween candy. Just the thought of it makes us giddy.
But before summer leaves and fall moves in, I had to find time to make my favorite summer recipe. It's a must for me to make this dessert at least once during the heat of the summer months, as it's so refreshing. Not to mention, delicious.
I first saw this recipe in a Taste of Home magazine several years ago. I made it immediately and it was such a hit that it immediately became a family favorite. I like to make it for company because not only does it look like I spent all day putting it together, but it's really beautiful to serve.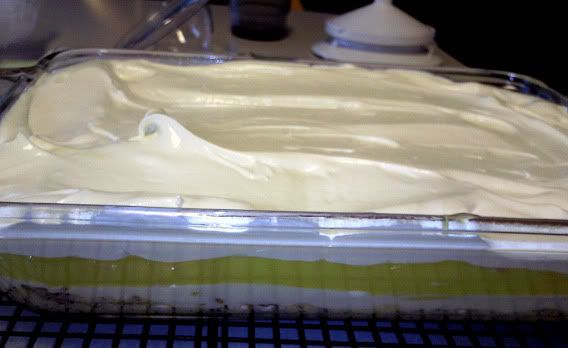 Lemon Creme Dessert
First layer (crust):
1 cup flour, 1 cup finely chopped pecans, 3 tablespoons sugar, ½ cup chilled butter
Combine flour, nuts and sugar. Cut in butter until pieces are very small. Press into buttered 11x7 inch pan. Bake at 350° for 15 to 20 minutes, until edges are light golden brown. Cool.
Second layer:
8 oz. cream cheese, softened, 1 cup powdered sugar
Beat cream cheese and powdered sugar until smooth. Spread over cooled crust.
Third layer:
1½ cups sugar, 1/3 cup plus 1 tablespoon cornstarch, 1½ cups cold water, 3 egg yolks (lightly beaten), 3 tablespoons butter (cubed), 2 teaspoons grated lemon peel, ½ cup fresh squeezed lemon juice
In large saucepan, combine sugar and cornstarch. Gradually add water. Bring to boil over medium heat. Cook and stir for one minute, until thickened. Remove from heat. Stir small amount of cooked mixture into egg yolks. Add mixture back to pan, stirring constantly. Heat to gentle boil. Cook and stir one minute. Remove from heat; stir in butter and lemon peel. Stir in lemon juice. Refrigerate until cool. Spread over second layer.
Fourth layer:
1 cup cold milk, 1 sm package instant vanilla pudding mix, ½ tsp vanilla, 8 oz. cool whip, thawed.
Beat milk and pudding mix on low for two minutes. Beat in vanilla. Fold in cool whip. Spread over lemon layer.
Chill four hours. Cut into squares to serve. May serve with additional cool whip.
I hope you'll give this delicious dessert a try before summer ends. Maybe it will become a family favorite for you too.