I hate Fathers Day. and I have for most of my life. My dad died when I eight. After that, my mom was always depressed for the day, then the week following. I can honestly understand that. Even more now. But, as a kid it was tough. I've mentioned it before, my dad's birthday is tomorrow and mine the next day. It really is a hard week, but as a kid I really wanted my birthday to be happy.
I loved my dad. I was closer to him than I was my mom. Probably because he was usually home, and she was gone to work or sleeping. She was supporting him (and us) and I truly appreciate that. He was a full time student, moving us all around the country, college to college while he pursued a doctorate. (Five kids born in five states...all college towns) He almost had it too when he died. It makes me sad to think about how different my life could have been...
I wish I could add pictures of him to this post. It would help me feel better to look at him. Unfortunately, my photos are in storage and I have no clue which box they are in. He sort of looked like this guy: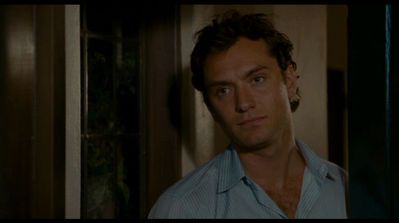 Jude Law,
Okay. Dad didn't look exactly like Jude, but it' s close enough that I think about him whenever I see him. He especially resembles him as Graham, in The Holiday.
Just a few memories about him: He loved the outdoors. It's why I love living by the mountains. Pine trees especially bring good memories of dad. I remember wicked games of kick ball in our front yard in Georgia. He had all the neighborhood kids over to play. He loved those games. So did I.
He taught himself to play guitar by watching PBS every Tuesday night at 7 pm. It was the only time he didn't want us around. He asked us to play in our rooms for that one hour a week. After a few months, he got good enough to play a few folk songs. I remember singing "Hang down your head Tom Dooley...Hang down your head and cry"... Then we would always sing my favorite song of all, I'm A Little Teapot. My sisters and I would do all the actions while we all sang. Such good memories!!
We got a kitten while he was in the hospital. He had brain surgery (dang tumors!). A few days later, my mom came to pick us all up from school. She pulled the car over under a tree and gave us the news our dad had died. I had a really hard time figuring out what that meant. I mean, I knew. But I had never known anyone who had died, so it didn't really make sense to me.
It wasn't until a couple days later, when I realized I'd never get to show my dad the new kitten that it made sense to me. That's when I truly understood he wasn't coming home. It was a devastating realization for me.
You know, this has really helped to write about him and remember him. I'm sorry it hasn't been the typical happy fathers day post, but I hope it helps you to remember to hug your own dad a bit tighter if he's still with you. It's awful when he's gone and you'll be so glad you showed him love when there is still time.