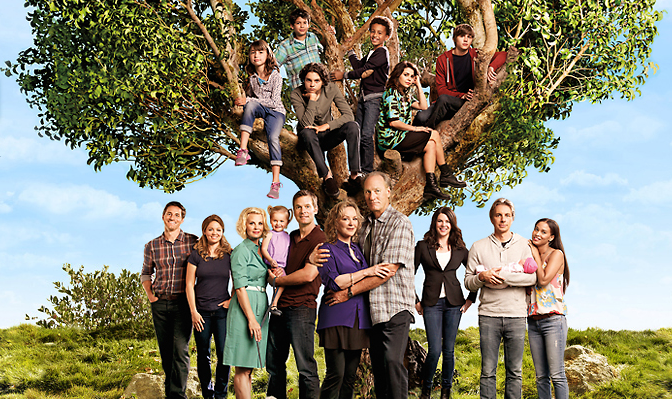 I've spent the past two weeks watching every episode of every season of Parenthood. I very sadly, finished the last one today so I am caught up and can watch the new episode on Thursday. I'll hate only seeing one episode at a time and waiting all summer for the new season. It's been a joy to watch the past four plus seasons back to back.
I love this show. I swear every episode made me laugh and also made me cry. Sometimes it was happy cry and sometimes, sad. But it was wonderful. So wonderful.
I'm sure anyone who watches this program wishes they were a Braverman. Me too. What I would give for the love and support that family has for each other. I cried my eyes out when Sarah, Adam and Crosby each came to Julia's house to help her not be lonely when Joel moved out. I adore Amber and Drew. Their relationship is perfect! He is growing up to be quite the cutie.
Then there is Kristina. She is my idol. Not only would I love to look like her, but to be as strong and graceful! Gosh I love her. And Zeek. I've always loved Craig T Nelson. He's perfect as the patriarch of the family. Every single time he calls one of his grand-kids, "Grandson" or "Granddaughter" I melt. I am so enchanted by that. As for Camille. I like her, but mostly I'm mad at her for always wanting more. I wish she could see the beauty in her family and her home (that is now sold because of her) and be content. What I would give for what she has!
I want Joel to come around and see what he's doing by leaving his marriage. He's so confused and the whole story line doesn't make sense. The sad thing is Julia is going to be fine...happy even if he doesn't. So he'd better hurry if he wants to jump back into her life. Either way, it's going to be okay.
Oh, and by the way. I am rooting for Hank.
I wish I were a Braverman. I have a lovely family. I have four siblings who love me and support me the best they can. But I'll be honest. I need so much more. It's just that they don't have more to give. I have all they can spare. But I need a Sarah, or Kristina or Julia. I need a Zeek. I need an Adam and Crosby. I need someone to come to my house to help me feel less lonely.
I need a life.